Air Force's Four-Year Win Streak over Notre Dame
    Week 10: Written by Ryan Nanni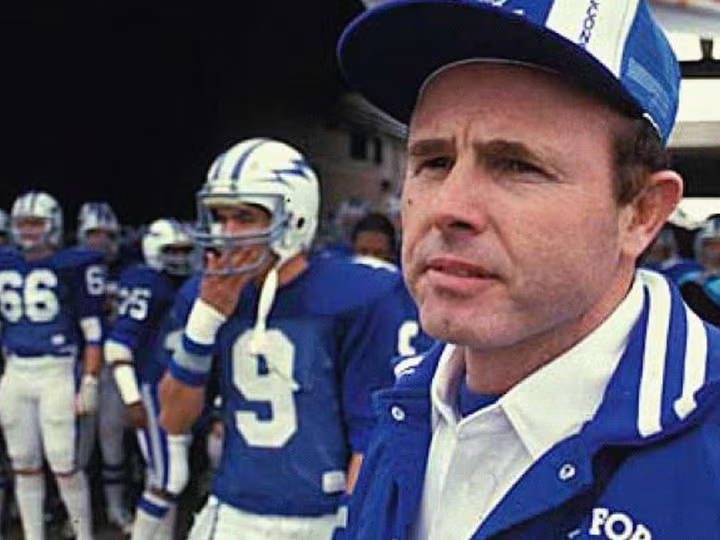 The list of teams beating Notre Dame four years in a row is exceedingly small. Northwestern pulled it off in the 1950s, Michigan State did it in the '60s, and again during the Bob Davie years; Boston College beat Davie in his last season and Ty Willingham in all three of his years at the helm. USC managed it three times, once in the 70s and then for eight straight games under Pete Carroll.
And then there's Air Force, who lost the first 11 games they played against the Fighting Irish until they beat them in 1982. And again in 1983. And 1984. And, yes, to complete the misery for anyone who enrolled at Notre Dame as a freshman in the fall of '82, again in 1985.
But why would I tell you Notre Dame lost to Air Force four years in a row when we could go through each game individually and explore the absurd paths some of these losses took?
November 20, 1982: Air Force 30, Notre Dame 17
Take this as you will, but this is probably the least agonizing of the four Notre Dame losses we will discuss. Air Force led 17-0 at the half and never let the Irish get closer than two touchdowns away after that. Starting Notre Dame quarterback Blair Kiel missed the game with a shoulder injury, and the Falcons ran the ball efficiently out of the wishbone. It was the sort of game where all the Notre Dame quotes afterward were about how you had to hand it to Air Force. Even Falcons head coach Ken Hatfield pointed out that Notre Dame was at a disadvantage with this game coming right after games against No. 1 Pitt and No. 5 Penn State a week before their road trip to No. 17 USC. Losses like this happen, and while they're not quite flukes, surely they're just isolated incidents.
That said, there was a tangible cost to this defeat for Notre Dame. Representatives of the Bluebonnet Bowl, attending the game expecting to invite the Irish after they beat Air Force, instead found themselves calling the office during the game and saying, "It doesn't look good." (No, really, that anecdote is in the newspaper.) They would end up inviting Florida instead.
November 19, 1983: Air Force 23, Notre Dame 22
After Air Force took an early double-digit lead (as they had in '82), Notre Dame put Kiel in place of true freshman starter Steve Beuerlein, and the Irish scored 22 unanswered points. It could have been slightly more; Air Force blocked an extra point in the third quarter and, on their next touchdown, Notre Dame went for two and failed.
But the Falcons kept pushing, throwing a 48-yard touchdown in the fourth quarter and putting together a 74-yard drive for another TD to take the lead with 1:35 to go. Like the Irish, Air Force failed to add extra points after both of these scores, missing both extra point kicks…until the second was called back for an offside penalty against Notre Dame and converted once it was retried.
The Irish didn't flinch and moved the ball back down the field, calling timeout with four seconds left and only a 31-yard field goal between them and victory. The snap and hold were both clean; the kick looked straight, but it never got close to the goalposts, as Chris Funk, the 6'4 defensive tackle who'd already blocked the earlier extra point, knocked the ball off course and preserved the Air Force win.
The mood in the aftermath of this defeat was much more somber and stunned. Kiel, a senior, had given the Fighting Irish the best game of his career in his last game at Notre Dame Stadium. And where the 1982 loss could be partially explained by the calendar, this was the regular-season finale for Notre Dame in 1983.
(If you're into omens, it's worth noting that, during the third quarter, Notre Dame's leprechaun mascot had to be taken off the field on a stretcher after attempting a stunt and falling face-first onto the ground. He wound up being fine.)
October 13, 1984: Air Force 21, Notre Dame 7
You can find elements of this loss that evoke the 1982 game. There was the brutal efficiency of the wishbone, as Air Force absolutely dominated Notre Dame on the ground, running for 371 yards and only needing two pass completions. This time, the starting quarterback (Steve Beuerlein) was sidelined with a shoulder injury for the Irish.
But where the '82 game spiraled out of Notre Dame's grasp early, this one remained close late. Down 14-7 in the second half, the Irish threw a pick at the Air Force 20, lost a fumble at their own 46, and got stopped on 4th-and-1 at the Air Force 49. After that last stop, the Falcons finally scored again to put the game out of reach.
To recap: Notre Dame, to this point, had lost:
One game where they might have looked past Air Force and fell too far behind early to catch up

One game where they went back and forth with Air Force and successfully drove for what should have been a short game-winning field goal, only to see it blocked

One defensive battle where they blew multiple opportunities on offense and only scored once
And this is where I tell you that all three losses do not come close to the pain and anguish Air Force Win Number Four would create.
1985: Air Force 21, Notre Dame 15
Maybe people didn't believe in Air Force beating Notre Dame the three years before this game. Still, the Falcons came in as 5.5-point favorites. Then they lost fumbles on two of their first seven plays in the game, and Notre Dame jumped out to a lead. Things went back and forth, but in the fourth quarter, the Irish found themselves on the verge of an opportunity that had eluded them for the last three years. They had the chance to put Air Force away in the fourth quarter.
Notre Dame had the lead with less than ten minutes to go, which wasn't the case in 1982, 1983, or 1984. It wasn't a huge lead – just 15-13 – but it was a lead all the same. And they marched down the field on the ground, from their own 41 all the way to the Air Force 2, where they had first-and-goal. A touchdown would have meant a two-score lead, which might have been too much for Air Force to overcome that late.
Things went amiss. Runs for a loss on first and second led to a third-down pass that resulted in an intentional grounding call. However, Notre Dame was still in easy field goal position with about five minutes to play. Make the kick, and the Falcons would have needed a touchdown drive to win. Miss it, and Air Force would still need to get a field goal of their own, starting with bad field position.
From a similar distance to the '83 game, the Irish lined up for a kick. And, just like in 1983, Air Force blocked that kick. This is the part that stings: Falcon A.J. Scott grabbed the ball and ran it back 77 yards for a touchdown that ended up being the last score of the game.
The easy way for Notre Dame fans to explain away this streak is that these were some genuinely down years for the football program. Between 1982 and 1985, the Irish went 25-20-1 and never finished better than 7-5. But that explains how Notre Dame was in a position to lose to Air Force here and there, not four times. In that same four-year stretch, Notre Dame went 3-1 against USC, 4-0 against Navy, and 3-1 against Michigan State. Even Miami dropped one game out of four to this iteration of the Irish.
Maybe Air Force's offense was just too tricky to prepare for. Perhaps Notre Dame suffered from lousy injury luck, poor coaching, and weird luck. Or maybe it was fate: 1982 was the first season Air Force won the Commander-in-Chief's Trophy by beating Navy and Army in the same year, and the President does serve a four-year term, after all.

---
1 comment
---
---