10 Must-Watch Players During March Madness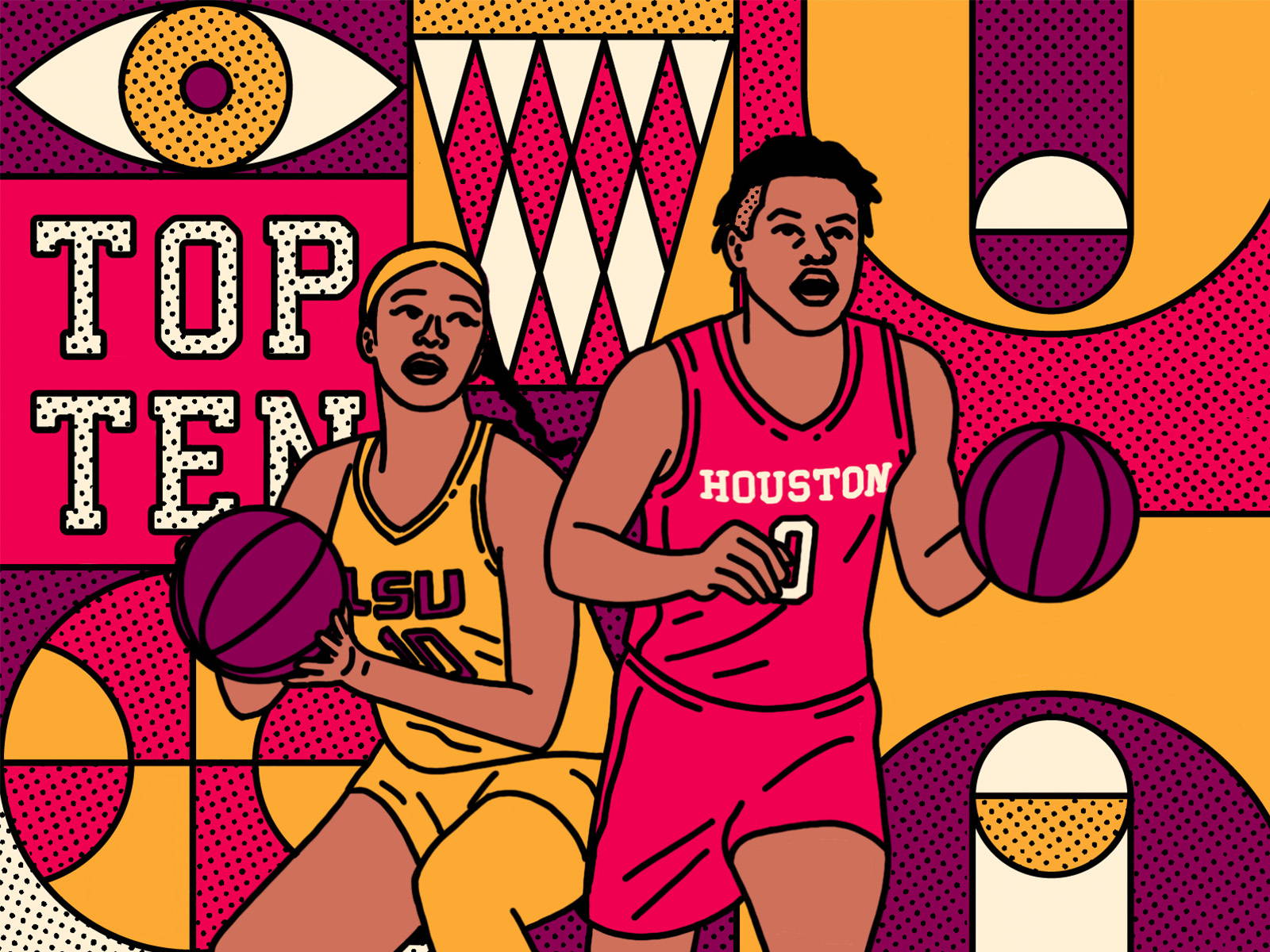 By: Jordan Ligons Robinson

You can catch Jordan writing, on-camera hosting, or podcasting about women's basketball year-round. And if she's not doing those things, she's either adding to her kick collection or reminiscing about the Sacramento Monarchs.  
---
Cue the NCAA March Madness theme song because it's the best time of the year! Game-winning buckets, Cinderella moments, and record-breaking performances — March is when superstars are born.
With more parity than ever in the women's tournament and certified bucket getters on the men's side too, I tried my best to narrow it down to 10 players to watch this month. (It was really tough; there are so many great players to choose from!)
Mark those calendars and fire up your second (or third) screen to catch all these players in action. The madness begins March 14-15 for the men and March 15-16 for the women. And come the first week of April, there's a solid chance one of these 10 athletes below will be cutting down the net as a national champion.

Marcus Sasser, guard, Houston
This dude is tough. The senior combo guard hailing from Dallas, Texas is a true 3-and-D player. His shot is so pure, it may bring a tear to your eye. And he's quick too. It's been a few times I've watched his highlights on YouTube where I had to double-check that my playback speed wasn't set to 1.5. Sasser scores at a high clip while tenaciously guarding the opponent's best offensive threat. He dives into passing lanes relentlessly, constantly sacrificing his body, and always sets himself up for a mean finish on the breakaway.
He recently went viral for this insane Euro step against Temple.

The kid is special. Sasser was sidelined due to an ankle injury in last season's tourney, and then he delayed his NBA aspirations to finish the job this year.
BTW: Sasser was ranked 399th in his class, and was mostly getting recruited by mid-majors. Now, to be headed to the NCAA as a/the no. 1 seed is truly inspiring.
Cameron Brink, center, Stanford
Brink is her name, and blocking shots is her game. The 6-foot-4 senior superstar for Nerd Nation now leads the program with 290 blocks and counting — there was one game this season where she had six blocks in a quarter. And she does it all in her patent braided pigtails. Stanford is loaded with All-Americans from top to bottom of their roster (Haley Jones, Hannah Jump, Fran Belibi, Lauren Betts) but Brink's suffocating defense will give opponents a VIP ticket to the Brink Block Party.
BTW: Don't be surprised if you see Steph Curry sitting courtside at the Final Four. Brink, who is Curry's godsister, has been spotted many times at Maples Pavillion this season, especially with his hoop-loving daughter Riley

Trayce Jackson-Davis, forward-center, Indiana
It's a bird! It's a plane! No, it's just Jackson-Davis soaring in to dunk on you. The home-grown Hoosier has signed the deed to every key he's played in — he owns the paint. The 6-foot-9 star averages 20 points and 11 rebounds, all from 2-point land. He only took three 3's in his entire four-year career. Buckle up for TJD to turn the NCAA Tournament into his personal dunk compilation. Watch ya head!
BTW: His January averages of 23 points, over 14 rebounds and over three blocked shots per game, was one of only three (ahem, Shaquille O'Neal and Tim Duncan) such months in the last 25 years. Whenever you're on a list with The Diesel and The Big Fundamental, you're doing things right!

Aliyah Boston, forward-center, South Carolina
The no. 1 Gamecocks finish a miraculous undefeated conference season, and that's because of their 6-foot-5 senior leader. Boston has an old-school, back-to-the-basket post-game sprinkled with a smooth mid-range jumper that will have you mesmerized. You'll blink and she'll have a double-double (she averages nearly 13 points and 10 per game). Boston — the 2022 National Player of the Year and Naismith Defensive Player of the Year — is a projected no. 1 pick in April's 2023 WNBA draft, and I predict she'll spend all tournament showing you why.
BTW: June 4th is officially Aliyah Boston Day in her hometown of St. Thomas, US Virgin Islands. Yeah, she's THAT girl!
Jalen Wilson, guard, Kansas
There hasn't been a program to win back-to-back national championships since Billy Donovan's Florida Gators in 2006 and 2007. But Wilson and the Jayhawks have the ingredients to make another run at a title. As a National Player of the Year candidate, Wilson is a key piece; he leads the Big 12 in scoring and rebounding averaging a career-high 20 and 9 per game. He does all the little things — hustle plays, hype man, charge-taker — but doesn't shy away from the big moments either. In a five-day span in January, he dropped a total of 68 points! Kansas has remained atop the standings because of Wilson. And if he can lead them to back-to-back titles, he'll be legendary.
BTW: He has a bearded dragon as a pet. Her name is Dolo. Finding out this very important information made me search: "Bearded Dragon Basketball Jerseys." They exist, and Dolo needs a Wilson one immediately!!

Alissa Pili, forward, Utah
Utah is my sleeper team this year. Without a ton of national recognition, the Utes have steamrolled through the Pac-12 and it's because of the sheer brute force of Alissa Pili. The junior transfer from USC is an efficient scoring and rebounding presence in the paint, and she can step out and drain the 3 too. This is the best season in Utah women's basketball history, and with the Pili at the helm, this top-5 scoring offense will be hard to beat.
BTW: Utah is 6-0 this season when games are decided within five points, including 4-0 when three points decide games. Pili's clutchness is responsible for the majority of those game-winning plays. You've been warned!

Zach Edey, center, Purdue
The 7-foot-4 phenom is must-watch TV. There's really nothing he can't do. Put-back dunk? Check. Kareem-like hook shot? Check. Seven blocks in a game? Check. He leads the nation in double-doubles, too, and when his junior season wraps, his name will be inked all over the record books. The Boilermakers were a casualty of St. Peter's Cinderella story in 2022 and were bounced out of tournament play early. Edey and Co. want revenge and they're good enough to go all the way.
BTW: The Canadian loved baseball and hockey first, and didn't fall for hoops until high school. Maybe he had better luck finding a size 20 basketball shoe rather than cleats or ice skates.
Angel Reese, forward, LSU
Reese's game is finger-licking good. She's a dazzling point-forward because she grabs the ball off the glass (she leads the SEC with over 15 rebounds per game) and easily takes it coast to coast (yes, she also leads the conference in scoring with over 23 points per game). Reese transferred from Maryland to play under Kim Mulkey at LSU and she's exploded to one of the best players in the country. LSU's only loss was an in-conference matchup with South Carolina — will we be lucky enough to get a rematch?! Regardless, grab your popcorn, Reese and the Tigers are going to make a deep, entertaining run.
BTW: Reese's teammate Flau'jae Johnson is a budding rap superstar signed by Roc Nation — she made it as a semi-finalist on America's Got Talent. If LSU was to win the title, a live Flau'jae freestyle as they hoist the trophy would be *chef's kiss*.
Jaime Jaquez Jr., guard, UCLA
UCLA made it to the Elite Eight in last year's NCAA Tournament, and Jacquez was the main reason for their success. The 6-foot-7 guard can get hot in a hurry; he has a sweet stroke from the outside, and his layup package is unmatched. Coming out of an impeccably competitive Pac-12 conference, the 23-4 Bruins have their eyes on grabbing their first national championship since 1995. If they hop on Jaquez's back, he'll lead them there.
BTW: His sister, Gabriela, is a freshman on the ranked UCLA women's basketball team. We love a brother-sister duo at The Big Dance!

Olivia Miles, guard, Notre Dame
We all witnessed this buzzer-beater last month, and we're also familiar with another Notre Dame baller who hit two game-winners in the 2018 tournament. Coincidence? I think not! The Fighting Irish are made for the big moments in March, and Miles is no different. A prolific passer and scorer, the 5-foot-10 floor general of this 10th-ranked squad can surprise some non-believers in the tournament.  
BTW: Last year, in her debut as a freshman, Miles became the first men's or women's player in history to record a triple-double in the NCAA Tournament. Imagine what she'll do as a sophomore!
---

---
---