A look back to when USC made Black History in the 1983 National Championship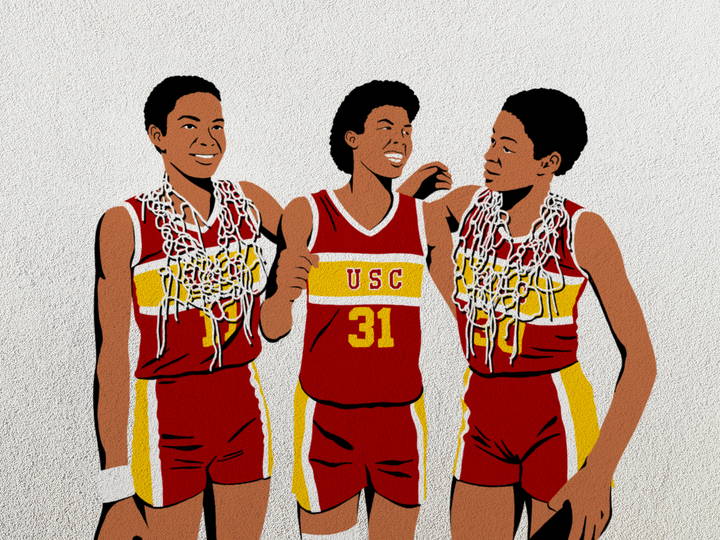 By: Jordan Ligons Robinson

You can catch Jordan writing, on-camera hosting, or podcasting about women's basketball year-round. And if she's not doing those things, she's either adding to her kick collection or reminiscing about the Sacramento Monarchs.  
---
Forty years ago, the University of Southern California's Women of Troy won its first NCAA National Championship. On April 3, 1983, when they thrillingly bested Louisiana Tech 69-67, Black History was made.
Freshman Cheryl Miller, Cynthia Cooper, Pam McGee, Paula McGee and Rhonda Windham became the first all-Black starting five in women's basketball to win a title. They changed the game.

And they did it in style. Anchored by high-flying All-American Miller — who finished with 28 points and was crowned tournament MVP — USC played with flair and panache. It was something women's basketball fans weren't used to yet. Rewatching the back-and-forth battle on YouTube you can see the women's game evolve before your eyes.



Tech's slow-but-steady style was tethered to yesteryear. With a pigtailed 5'4 Kim Mulkey — who is the current head coach of Louisana State — as their point guard, the play style was pegged to be "ladylike" and more withdrawn. In fact, the predominantly white Tech team had co-head coaches to ensure this. Leon Barmore preached X's and O's while Sonja Hogg made sure the players were mannerly. The Lady Techsters, as they were called, were hoop royalty at the time. They won the first-ever NCAA championship in 1982 and won the AIAW championship the year prior to that. But, that was because they hadn't faced Cherly Miller yet.
A product of Riverside, California, Miller was one of the most sought-after high schoolers ever. By the time she was a senior, the 6'2 forward was the first woman to dunk in a sanctioned game, had over 250 college scholarship offers, and dropped 105 points in a contest on 46-50 shooting. She was different.

"This is what struck me so much about Cheryl Miller is — she was unafraid to be unabashedly in-your-face good," Doris Burke noted in HBO's Women of Troy documentary. "Do you know how unusual that was for a woman in that day and age to embrace all 'eyes on me'?"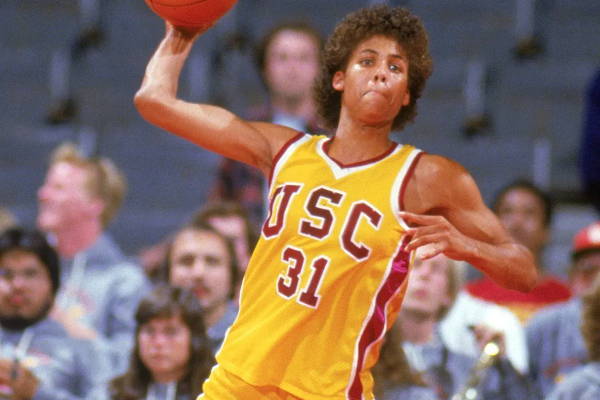 The remaining USC starters were stars in their own right, too. The McGee twins, Pam and Paula stood 6-foot-4 and dominated the paint on both ends. Cynthia Cooper had a crossover that made defenders touch Earth, and Rhonda Windham orchestrated USC's offense like she was the conductor of the Los Angeles Philharmonic.
They played at an uptempo, blurred pace. Donning the shimmery gold and cardinal-trimmed jerseys, they'd full-court press with their center running point; their athleticism set them apart. The Women of Troy embodied what was systematically rejected, and flipped it into a championship banner.
"The respect of women's basketball," former USC player Juliette Robinson emphatically added in Women of Troy, "we took that. We took it from Louisiana. We took it from these girls."
Southern Cal not only defeated Louisana Tech on the scoreboard but also as Swish Appeal wrote: "they scored a symbolic victory over the sport's traditionalism." It was a cultural clash and the Woman of Troy set a new precedent. They'd go on to win back-to-back titles, snag runner-up in 1985 and Miller would win Naismith Player of the Year three out of her four years at SC.
This squad would inspire a young Black girl out of Inglewood's Morningstar High School to join the Trojan a few years later — Lisa Leslie. Even today, powered by the double-double queen herself, Rayah Marshall, USC cracked the AP Top 25 for the first time since 2016. And LA's top 2023 recruit, JuJu Watkins signed to play in Galen Center next season. It started with the 1983 Women of Troy — breaking barriers, changing the game. They ran Los Angeles then, and now, the generations that follow continue to fight on. 


---

---
---