A History of Fifth Down in College Football
      Week 2: Written by Ryan Nanni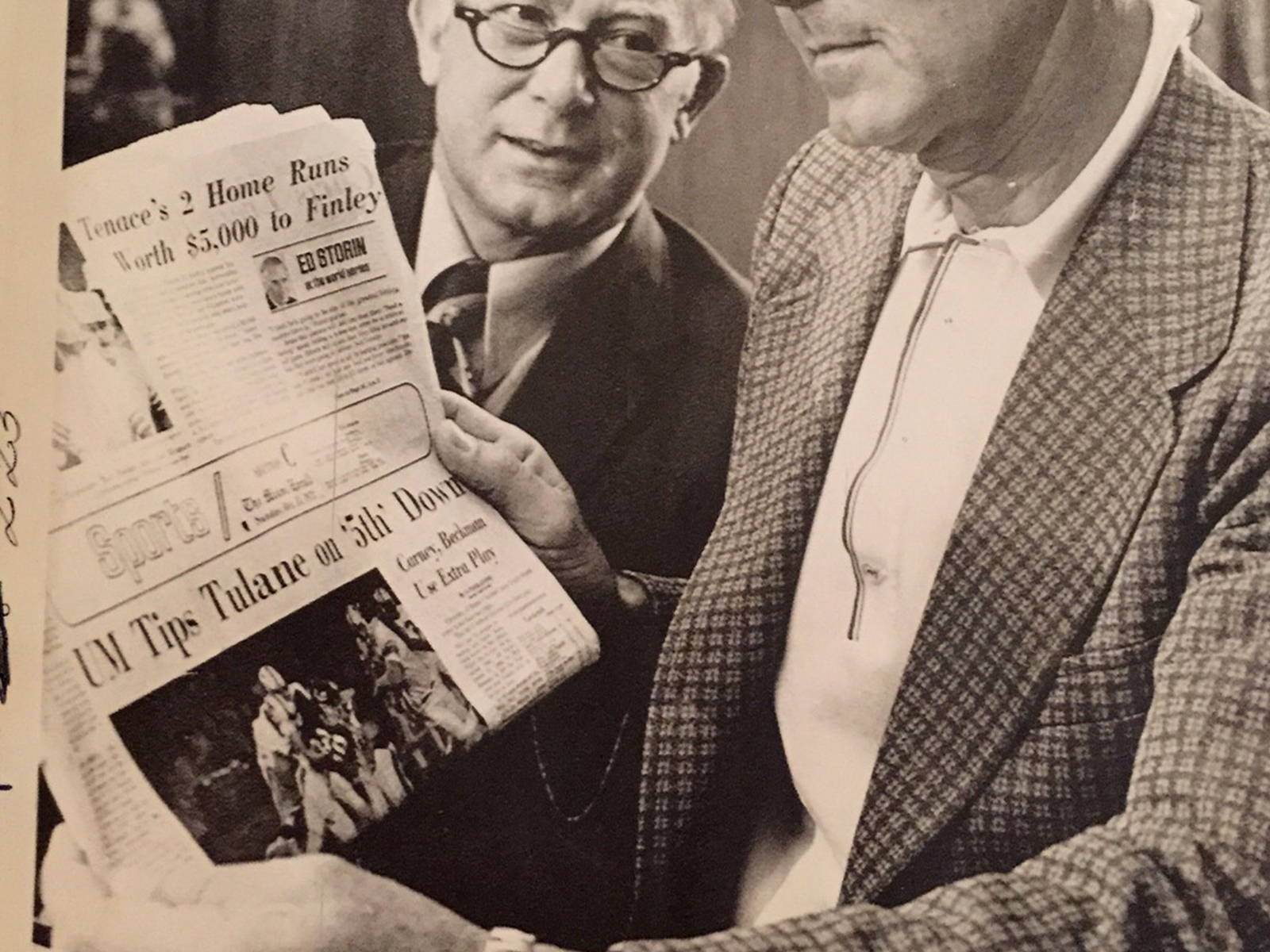 As infamous college football game endings go, it's hard to beat Colorado's Fifth Down score to beat Mizzou on the final play in 1990. If you're unfamiliar with the details, we can briefly run through them.
With about thirty seconds left, Colorado had the ball a few yards from a go-ahead touchdown. The down marker erroneously put the Buffaloes on second down when they had already run two plays. After the second-down-that-was-really-third-down failed, the Buffs spiked the ball on third-down-that-was-really-fourth-down. Because Reality and Official Counting had briefly divorced, Colorado did not turn the ball over. Instead, they ran one more play: the game-winning touchdown.
This was not a bungled interpretation of what counts as a catch or a failure to throw a flag on an obvious penalty. Those are decisions we empower referees to make, understanding that, like all humans, they may sometimes use that power to make decisions we think are stupid and bad. Fifth Down was simply a failure to pay attention, and it has been consistently labeled one of the worst officiating errors of all time ever since.
Afterward, Colorado coach Bill McCartney was asked if he would consider a forfeit. He made it clear that wouldn't be happening, for one irrelevant reason and for one that was somewhat logical. The irrelevant: At the time, Mizzou used an artificial playing surface called Omniturf that several opposing coaches, including McCartney, thought was unplayable garbage. The logical: McCartney pointed out that, had the officials kept the downs counted correctly, he obviously wouldn't have called for a run on third down followed by a spike on fourth down.
The score and Colorado's win both stood, and the Buffs eventually split a claim to the 1990 national championship with Georgia Tech.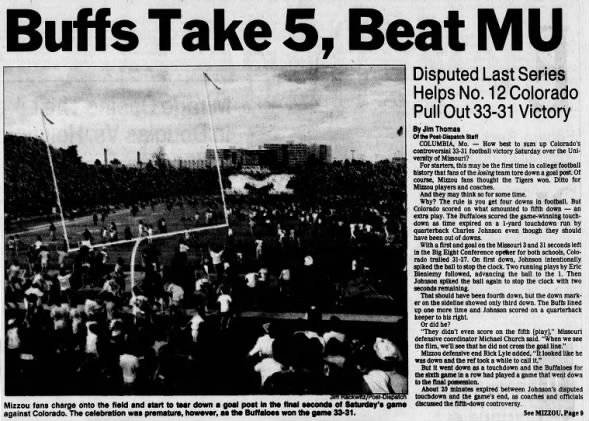 From the St. Louis Dispatch - October 7, 1990

That's the best-known Fifth Down. The second-best is, in part, the reason why McCartney was asked if he'd concede the loss after the fact.
In 1940, 6-0 Cornell, ranked 2nd in the nation, traveled to New Hampshire to play Dartmouth. The Big Red were widely expected to cruise to victory. They'd won their games by a total of 181 points to 13, while Dartmouth had a record of 3-4.
Cornell, trailing late, got to the Dartmouth goal line and couldn't punch it in. Before they ran their fourth down play, Cornell was penalized for calling a timeout they didn't have, and then Big Red halfback Walt Scholl threw a pass that was knocked down by a Dartmouth defender.
Dartmouth's defense thought they'd effectively ended the game. As you can probably guess, that's not what happened. The head referee gave Cornell's offense the ball back for another fourth down, and Scholl threw a touchdown. Cornell 7, Dartmouth 3.
Except! Amongst the agitation from Dartmouth's players and coaches that the referee had ignored their protests before the game-winning score, Cornell's president and athletic director made a proclamation. If the officials later determined that the touchdown had occurred on fifth down, the Big Red would forfeit and recognize Dartmouth as the winner by a score of 3-0.
A few days later, the referee reviewed video footage of the last drive and concluded he'd made a mistake. Cornell kept their word, ending their undefeated season but getting plenty of praise for their good sportsmanship.
While both of these calls were major blunders, we can acknowledge that they came during highly tense situations. The offense was close to the end zone and only had enough time for one more play. It doesn't excuse the error, but you can understand how some part of an official's brain got swept up in the inertia of what seemed to be a game-winning drive.
The third Fifth Down… didn't have any of those features. In the 1972 Tulane-Miami game, the Hurricanes scored on an extra down:
From the Tulane 32

 

after throwing an incomplete pass on 4th and 24

With over a minute left in the game

After both the Miami offense and the Tulane defense tried to leave the field

but were told to get back out there by the officials

.
That last bit's the part that really gets me. You see both teams leaving the field as though there's just been a turnover on downs, and you think, "Oh, these silly billies!" Live your life with the confidence of the referees who ignored what 22 players with completely opposing incentives signaled to them about which team should have had the ball.
After the loss, Tulane's president figured, well, if Cornell forfeited a Fifth Down win, maybe Miami would as well. The Hurricanes consulted with the historian and chairman of the NCAA's Rules Committee, who strongly discouraged them from setting a precedent that the outcomes of games could change after the final whistle had blown. (Obviously, the NCAA would never do such a thing.)
So Miami decided Tulane could, respectfully, kick rocks. After all, the Green Wave got the ball back with enough time to score and win without resorting to presidential begging! And even if the officials had correctly given Tulane possession after Miami's first fourth down, the time remaining meant a Hurricane comeback was still possible.
But say for a second, Miami went the other way and declared Tulane the winner. That would have created two historical precedents for Colorado to buck, which might have been too much for poll voters to stand.
I guess what I'm saying is that, even though they didn't play each other in 1990, Miami maybe kept Georgia Tech from an undisputed national title.



---