The Iowa Wave is the most wholesome tradition in college football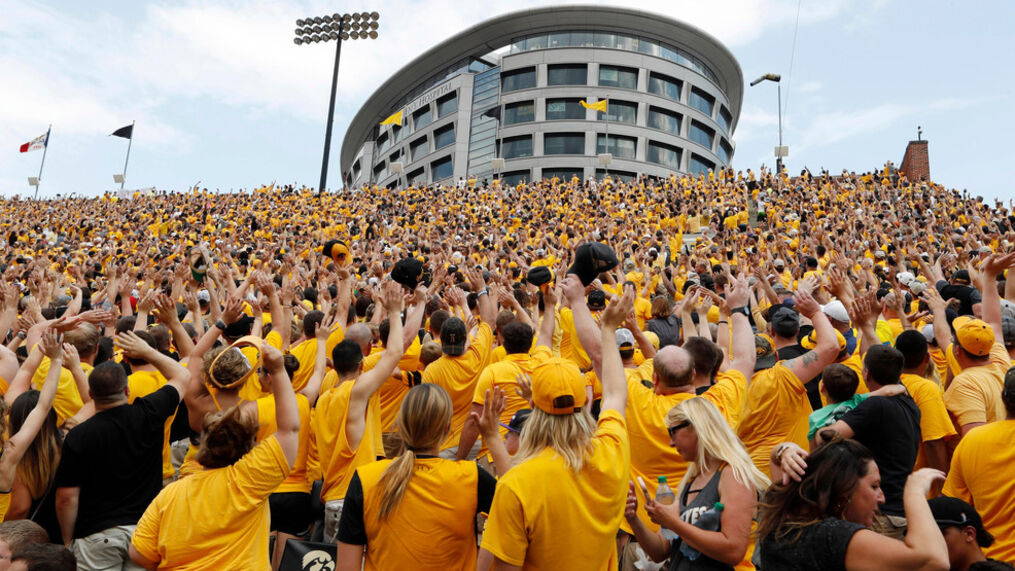 Photo from Jim Slosiarek/The Gazette
---
College football traditions are extraordinary. Every school has its moment, from Wisconsin's "Jump Around" to Penn State's "White Out" game. But the most wholesome tradition belongs to the Iowa Hawkeyes and the Iowa Wave.
At the end of the first quarter at every Iowa football home game, all 69,250 fans in Kinnick Stadium turn and wave to the children in the University of Iowa's Stead Family Children's Hospital as the children wave back. The tradition began in 2017, when the hospital (a beautiful structure in its own right) was built right next to Kinnick, allowing patients to look directly into the stadium.
What makes The Wave extra special is that the hospital's top floor features a "Press Box" where patients and families can watch the games. Officially known as the "Press Box Cafe," the 10th floor of the building has floor-to-ceiling windows, providing a perfect field view for anyone wanting to catch the game. Children also will often make signs to hold or tape to the windows to cheer on the Hawkeyes.
Everyone in the stadium takes part in this heartwarming tradition: home fans, but opposing fans, opposing teams, officials, broadcasters. Once the first quarter ends, every human inside Kinnick stadium turns and waves to the children's hospital.
Photo from @MCFick on Twitter

Prior to the construction of the new building, the Children's Hospital already played a key part of the Iowa Game Day experience with the The Kid'ss Captain program – where one patient per game acted as an honorary captain for the Hawkeyes. Beginning in 2022, the Kid's Captain had more duties added to their role: getting to choose the song played during the Wave, adding another layer of wholesomeness. The first song selected? Sara Bareilles' anthem "Brave&quot" by Sara Bareilles, featuring the refrain "I just wanna see you/I wanna see you be brave". I can't imagine the emotion running through the stadium at that moment.
The Iowa Wave is a symbol of hope, support, and encouragement for the children and families at the University of Iowa Stead Family Children's Hospital, demonstrating the Hawkeye community's generosity and compassion. As the tradition continues to grow and serves as a reminder that even amidst the excitement and energy of a football game, those in need deserve our support and attention.
You can donate to the hospital in several ways here. You can also purchase an Iowa Wave shirt here, and in the first five years, the hospital has raised 1.7 million dollars from the Wave community.
Next time you see an Iowa game on TV, watch for the best tradition in college football.
---
---
3 comments
---
---