The time Grambling State played a midseason game in Tokyo
      Week 3: Written by Ryan Nanni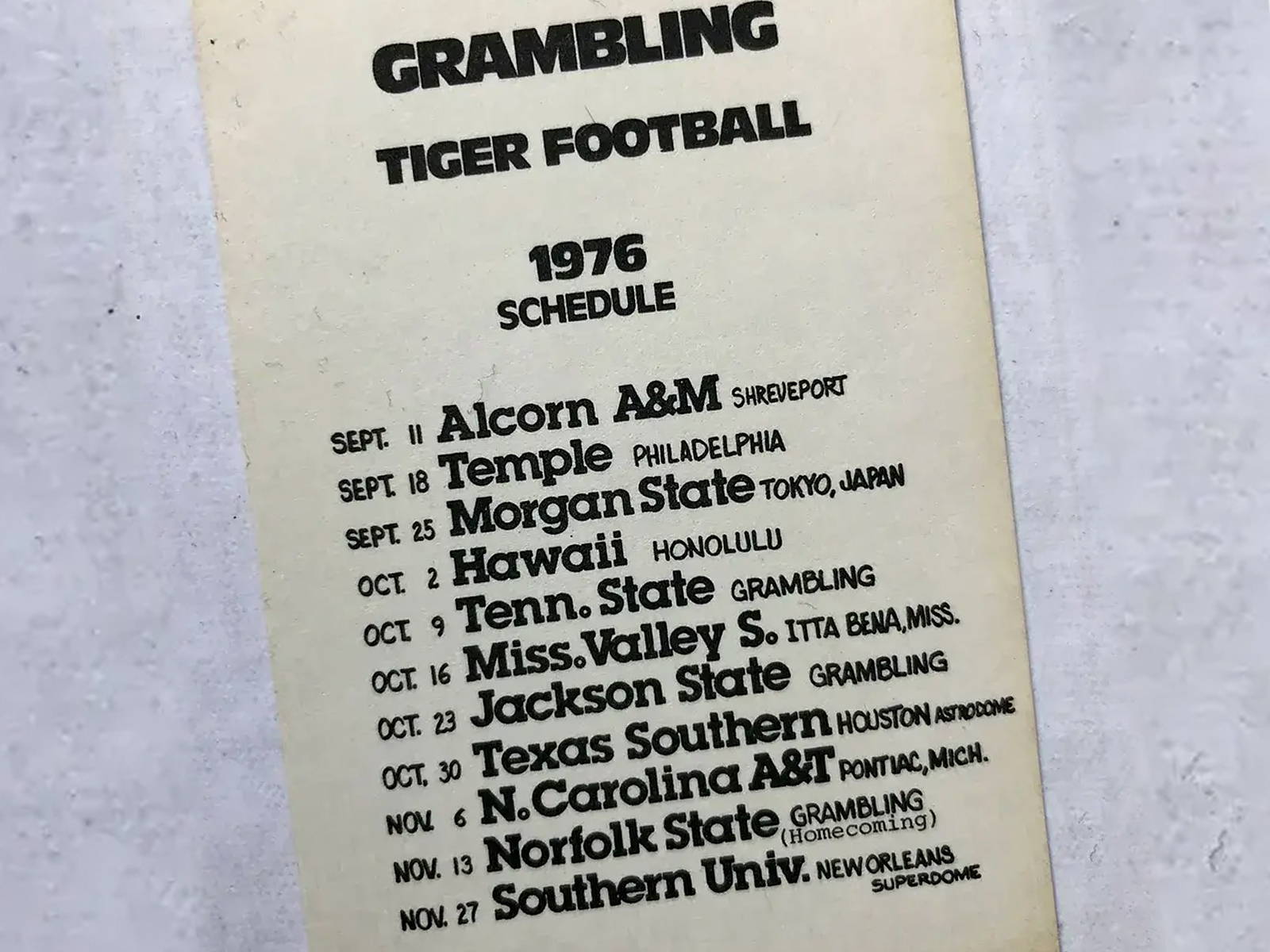 When college football decides to send two teams across an ocean to play, there are two guidelines in place to make things run as smoothly as possible:
1. Announce the game pretty far ahead of time.
2. Make sure it's either the first game (like the season kickoffs played in Ireland) or the last game (like the former Mirage Bowl in Tokyo), so it doesn't completely throw off either team for the rest of the season.
The first Mirage Bowl played in 1977 between the Grambling State Tigers and the Temple Owls, mostly followed those rules. Though the game wasn't officially announced until July, it was being discussed in newspapers as early as March. And it was played on December 11th, the last item on the schedule for both Temple and Grambling.
That game - which Grambling won 35-32 as Doug Williams threw four touchdowns in the final game of his college career - wasn't the first time two American college teams played in Japan, though. Grambling had also been a part of that game a year prior when they squared off against the Morgan State Bears...
...In late September.
The Bears and Tigers were very accustomed to playing each other at a neutral site, meeting at RFK Stadium in 1974 and 1975, Three Rivers Stadium in 1970, and Yankee Stadium in '68, '69, '71, '72, and '73. And, as of March 1976, Grambling's legendary coach Eddie Robinson believed they'd likely be opening the season against one another in a pro stadium somewhere. However, the location hadn't been solidified.
Two months later, Grambling announced they'd be heading to Tokyo for their third game of the year (with a stopover game against Hawaii on their way back), though, at the time, they hadn't booked an opponent yet. That problem was solved in July when Morgan State announced they were playing the game at the same press conference where they introduced new head coach Henry Lattimore.
This was a big step for American football in Japan. A few U.S. college teams had traveled to play local squads in exhibitions, though size differences between the rosters often meant the games weren't very competitive. The East and West All-Star teams who played in the 1976 Hula Bowl rematched a few weeks later in Tokyo, and the Cardinals and Chargers played a preseason game there in August. But this was the first football game between American teams - that would count for one as a win and the other as a loss - that Japan had ever hosted. (The organizers also got the Grambling World Famed Tiger Marching Band on the trip, which automatically made this more entertaining than a Cardinals-Chargers preseason game.)
Grambling started the season 0-2 for the first time since 1968. The Tigers opened the year getting shut out by Alcorn State, who held the Grambling offense to 83 yards. The following week, Grambling led Temple for nearly the entire game until the Owls threw the game-winning touchdown with 33 seconds left to beat the Tigers 31-30. Struggling after two very different but equally unpleasant losses, Grambling had to fly to Tokyo and play again without the benefit of a bye week - which Morgan State got after opening their year with a win.
You can see the upset victory for the Bears coming, right? I'm sorry to have misled you; Grambling won 42-16. They also picked up a fairly comfortable win against Hawaii on their way back to Louisiana to improve to 2-2.
Finally, on October 9th, after bouncing from Shreveport to Philadelphia to Tokyo to Honolulu, Grambling played a home game, hosting Tennessee State. And maybe that's where all the travel finally caught up with the Tigers. They fumbled seven times against TSU, losing all seven, including one they lost in their own end zone for a Tennessee State score and one they lost in the other end zone for a Tennessee State touchback.
But flying to Japan, winning the first regular-season college football game there, flying back, and exhaustedly losing sloppily after nearly a month on the road somehow was not the end of this story for Grambling!
A season earlier, the Tigers ran into a unique scheduling snafu. Eddie Robinson, also Grambling's athletic director, signed a contract with Oregon State to play a game on October 4th, 1975. Grambling's president, who didn't know about that deal, agreed that the Tigers would play fellow SWAC member Prairie View A&M…on October 4th, 1975.
The limits of space and time being what they are, Grambling made a choice and went to Oregon against the wishes of the SWAC commissioner. (They beat the Beavers for what it's worth.) The conference was pissed and, after attempts to reschedule failed, declared the game a forfeit loss for Grambling.
Guess who the SWAC thought Grambling would be playing on October 2nd, 1976 when the Tigers beat Hawaii? Prairie View. Guess who wouldn't agree to a rescheduled date? Prairie View. Guess who got another forfeit win against Grambling? Again, Prairie View. This time, the conference was so fed up that they declared Grambling ineligible for conference honors in all sports, not just football, for the year.
Robinson and the Tigers seriously considered leaving the SWAC over what they felt was unfair treatment, though they wound up staying, and Grambling remains a SWAC member today. Oh, and Prairie View finally met the Tigers on the field in 1977.
Grambling won 70-7 before going back to Japan in December.
 

---
4 comments
---
---