It's Still There: the Armory Fieldhouse and a Hidden Championship History
---
by Scott Hines (@actioncookbook)
Scott Hines is a proud two-time alumnus of the University of Cincinnati and the creator of The Action Cookbook Newsletter, a thrice-weekly publication that features his writing on sports, food, family, and far more.
---

It's still there. You just have to know where to look for it.
An alumnus returning to the University of Cincinnati after some time away might have trouble orienting themselves today, so great has the level of change been on the main campus in the city's Clifton neighborhood over the past quarter-century.
This isn't speculation on my part; as an alumnus fifteen years out from my own graduation, my head still spins at how different things can look in a span of time I still consider short.
Massive construction projects have touched nearly every corner of the 137-acre superblock: a sprawling, verdant campus green, gleaming dormitories both new and retrofitted, a new business school, a new athletics building, a new student recreation center. Nippert Stadium, the historic home of the playoff-crashing Bearcats football team, received a towering addition in the last decade; Fifth Third Arena, its counterpart in basketball, underwent a near-gut renovation just a few years ago.
The campus is bustling, bright, modern, and full of excitement for the future, the new, the next.
Chances are, many students or visitors don't even notice the old Armory Fieldhouse, a stout, unassuming building wedged up against the back of Fifth Third and the Campus Recreation Center.
Chances are, many students or visitors don't even notice the old Armory Fieldhouse, a stout, unassuming building wedged up against the back of Fifth Third Arena and the Campus Recreation Center. If one were to step inside, they might just hear cheers echoing from a half-century earlier.
Built in 1954 to replace Schmidlapp Gymnasium (itself now part of UC's world-renowned music school, and the building you might have noticed looming over the student section at Bearcats football games) the Armory Fieldhouse played to the most dominant era in Cincinnati athletics history. Over its 22-year span as their home court, the Bearcats' men's basketball team posted a 247-29 record. They made the (much-smaller-then) NCAA Tournament nine times, and advanced to the Final Four in five straight seasons–an accomplishment matched only by John Wooden's UCLA dynasty. Legendary point guard Oscar Roberston broke the NCAA's career scoring record while playing at the Armory Fieldhouse, and in 1961 and 1962, the Bearcats won the national championship, defeating in-state rival Ohio State both times.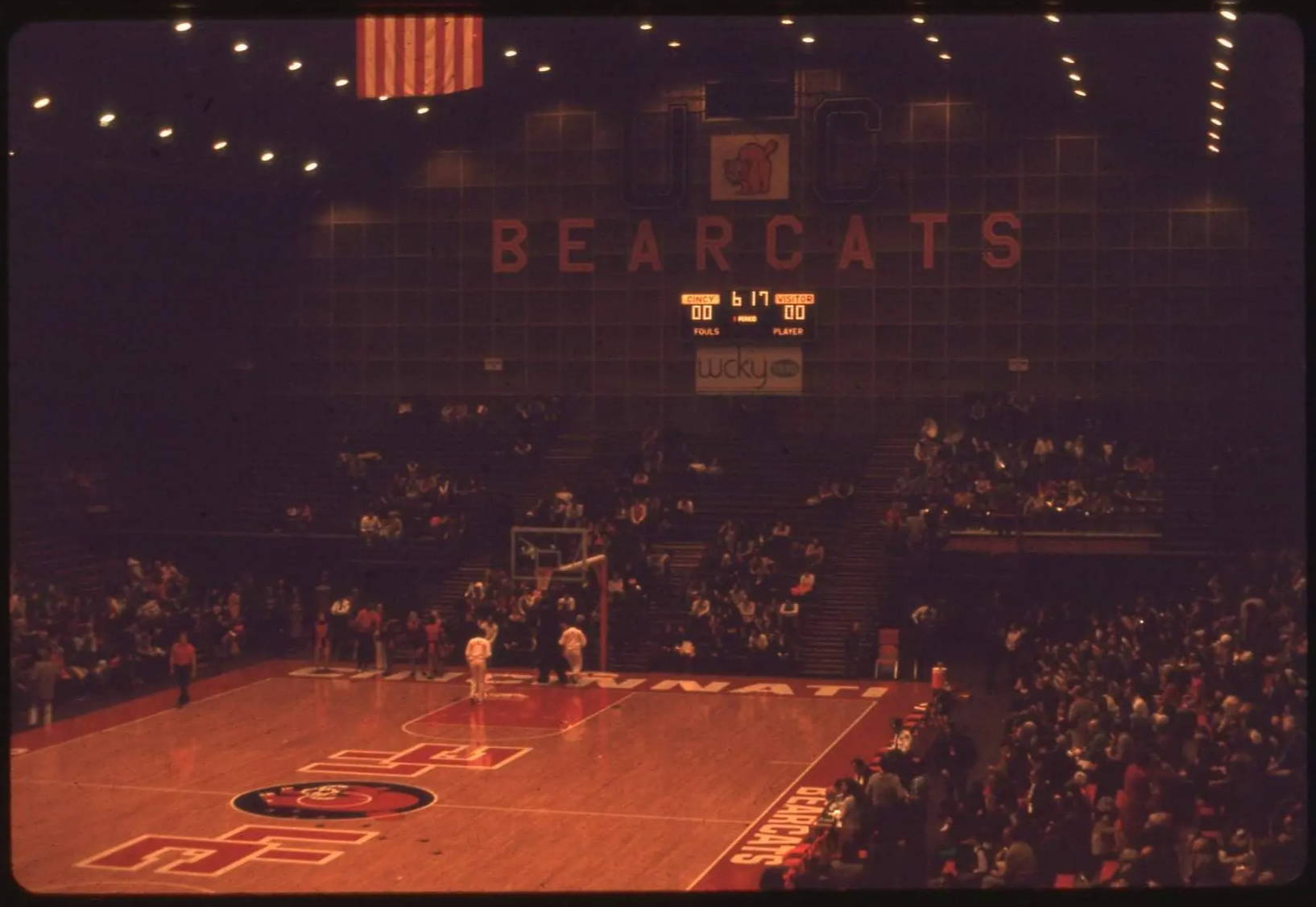 Photo via the University of Cincinnati Athletics

Time moves on, though, and the cozy, cacophonous 8,000-seat fieldhouse couldn't serve the needs of a perennial power in a basketball-mad city forever. In 1976, the Bearcats moved out, splitting their games between the off-campus Cincinnati Gardens and Riverfront Coliseum for more than a decade until the construction of the Myrl H. Shoemaker Center (later renamed Fifth Third Arena) in 1989.
Perhaps owing to its now-awkward position on campus, the Armory Fieldhouse has escaped the wrecking ball that's reshaped so much around it in the nearly 50 years since its primary use ended. A handful of non-revenue sports still use the space–now stripped of most of its bleachers, and resembling little more than an average gymnasium–for occasional winter workouts. Construction projects nearby, including the renovation of Fifth Third, have used it as a staging location. When I was a student, it was a drafty, rarely-crowded place to shoot hoops or run laps when it was too cold to jog outside, a place I never bothered to associate with the magic that once happened inside.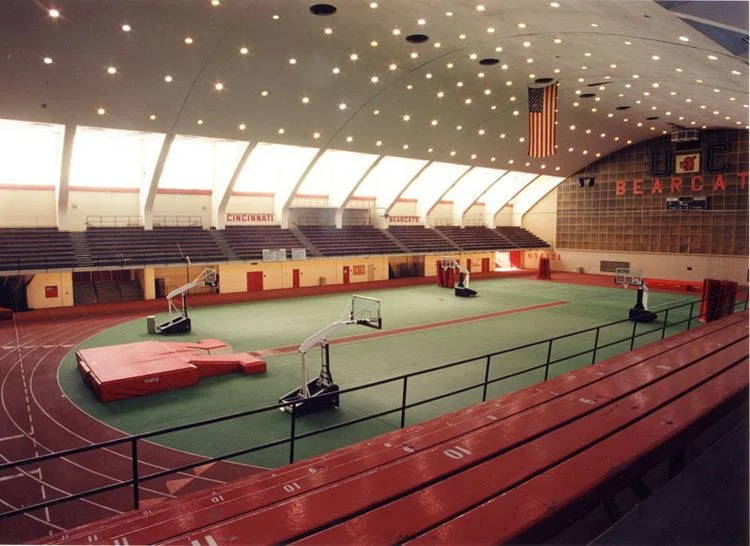 College athletics today are a behemoth, a trillion-dollar business with their own gravitational pull. March Madness isn't just a tournament, it's a full-on holiday season, and the top teams can fill arenas that put even NBA teams to shame. It can be easy to forget the humble venues that once played host to some of sports' greatest moments.
So maybe you should just walk over and take a look for yourself.




P.S. Keep an eye out for our Cincinnati launch on January 22nd- our first week of Big New Saturday, Season Three! Sign up here to be notified when the collection drops.

P.P.S. For more of Scott's work, subscribe to his own newsletter on sports, family, food and more.
---
3 comments
---
---