Wiley Brown, a Louisville National Championship, and a Lost Thumb
---
by Mike Rutherford (@CardChronicle)
Mike is the Managing Editor at CardChronicle.com, host of "The Mike Rutherford Show," and author of "100 Things Louisville Fans Should Know and Do."
---
During his four-year career at Louisville, Wiley Brown scored 699 points, grabbed 407 rebounds, and served as a starting forward on U of L's 1980 National Championship team, and its 1982 Final Four team. After Louisville, Brown enjoyed a successful career playing both professional basketball and football, and has spent the past decade coaching college basketball.
Still, none of these statistics or accomplishments are the first thing that pops into any Louisville fan's mind the moment they hear the name Wiley Brown. That's all because of one story.
When Brown was 4-years-old, the Sylvester, Ga. native accidentally cut his right thumb with a knife. The cut was never treated properly which caused it to become infected, ultimately forcing doctors to amputate it above the first joint.
Despite the impairment, Brown taught himself to be left-handed and developed into an athlete skilled enough to be named Georgia's High School Player of the Year for both basketball and football as a senior. He turned down major football scholarships in order to play basketball at Louisville for Denny Crum, who already had a special plan to make Brown an even better player.
After consulting with world-renowned Louisville-based hand surgeons Drs. Joseph Kurtz and Harold Kleinert following Brown's freshman season, Crum had U of L trainer Jerry May create a prosthesis that would essentially give Brown two working thumbs. Brown, who had spent the past 15 years perfecting life without the use of his right thumb, was hesitant at first, but was ultimately given little choice by his head coach.
How much of a role the artificial thumb played in Brown's development as a player is still a fact that's debated by all parties involved.
How much of a role the artificial thumb played in Brown's development as a player is still a fact that's debated by all parties involved. What isn't debatable is that every one of Brown's statistical averages improved dramatically, and that he went from a freshman reserve who played just 13 minutes per game to a full-time starter who rarely played fewer than 30 minutes.

Still, Brown wasn't a fan of the newfound notoriety that the artificial thumb was bringing him. He was even less of a fan of the fact that every now and then during a game or a practice, the artificial thumb would fly off his hand. Brown's pleas weren't heard, as Crum was a staunch believer in the notion that the prosthetic was making his big man a better player ... even if he was still instructing his other players to try and direct their passes to Brown's left side.
On the morning of March 24, 1980, Louisville was mere hours away from playing in its first National Championship game. Brown, and his new thumb, were a large part of the reason why. Brown had played an especially large role in the Cardinals' Sweet 16 win over Texas A&M, where he had scored seven of his team's final 10 points in regulation, helping U of L claw back from a late deficit, force overtime, and eventually eliminate the Aggies with a 66-55 win.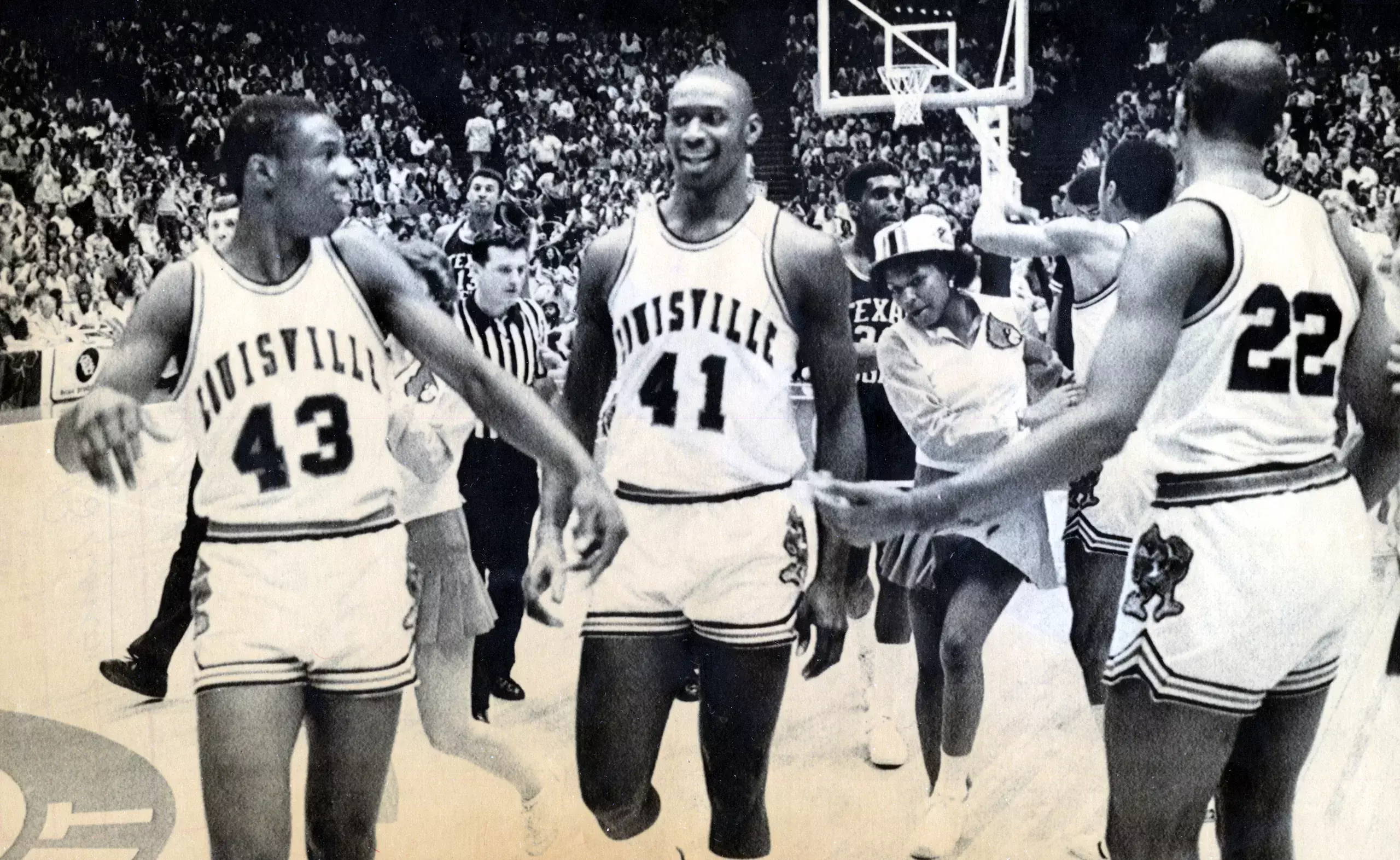 Photo by Keith Williams, The Courier Journal

Everything was going perfectly for Louisville. The Cardinals had looked like the vastly superior team in their Elite Eight win over LSU and their national semifinal victory over Iowa, Darrell Griffith was playing like the best player in the country, and Crum's team appeared poised to lock down some revenge on the UCLA team that had dealt them a soul-crushing overtime defeat in the Final Four five years prior.
But as the team gathered on the bus to head to Indianapolis' Market Square Arena, there arose a problem.
Brown walked over to student trainer Steve Donohue and, with a straight face, served up a line that Donohue probably never thought he'd hear when he joined up with Louisville basketball.
"Yo, man, I lost my thumb."
Brown didn't seem particularly upset by the development, but Crum was adamant that the thumb be found, especially with the program's first national title hanging in the balance. Brown had last remembered seeing his thumb on the breakfast table where he'd eaten that morning at the Hilton Hotel, so Donohue and U of L junior Randy Bufford raced back into the hotel.
The duo was immediately hit with the information they'd feared: all the tables from that morning had already been cleared, and the waste had already been tossed into the dumpster outside. After a search through the dumpster yielded no results, the group resorted to running back inside the hotel and asking anyone in the general vicinity of the dining area whether they'd recently seen a thumb.
In a last-ditch effort, Bufford went back into the kitchen area to rummage through anything he could. It was there that he discovered the thumb, resting peacefully beneath a stack of pancakes, eggs and sausage.
With his right hand as close to full strength as possible, Brown scored eight points and grabbed seven rebounds as Louisville clipped UCLA, 59-54 to claim the program's first National Championship.



---
1980 Louisville Basketball Champs Red Tee
---